You've just purchased your new favorite lingerie piece! It hugs your curves in all the right places, boosting your confidence and helping you feel fabulous, sexy, and beautiful. Now, it's time to learn how to best care for this new go-to piece to ensure that it stays in its best condition for many years to come.
We've compiled some useful advice from our lingerie experts here at Bradoria for cleaning and keeping your favorite intimates in tip-top shape:
Basic Lingerie Washing Tips
Different manufacturers have different recommendations for caring for their particular lingerie products. However, here are some useful tips for applying when caring for lingerie of any brand:
Check the label sewn into your lingerie. It will always be provided detailed instructions straight from the experts who made it on how to best care for the specific piece you purchased.

Dry Clean Only means Dry Clean Only! Don't attempt to machine or hand wash a piece labeled with these three words, otherwise, you will likely ruin your best lingerie!
Never put lingerie in the dryer- even if it can be machine washed! Gentle steaming can be used to remove wrinkles.
Lingerie wash bags are your friend. If an intimate can be machine washed, it might be a good idea to look into purchasing one. These special bags ensure your lingerie does not get twisted or stretched in the washing machine.
If the piece does not state otherwise, most lingerie should be hand washed in cold water using a mild detergent. Make sure you always rinse completely and allow the piece to air dry.
DO's and DON'Ts for Washing Silk Intimates
Silk is a very delicate fabric that can be easily damaged if washed improperly. Use these DOs and DON'Ts for learning how to take care of your new silk lingerie:
DO soak a silk lingerie piece in warm water and mild soap or silk wash. DON'T ever use detergent on silk! It is too harsh for the fragile fabric.
DO gently wash the piece with the warm water and soap. DON'T twist or pull the piece!
DO rinse a silk intimate in cold water. DON'T ever attempt to clean a spot on silk directly with cold water.
DO dry a silk piece by gently rolling it in a towel, then laying it flat. DON'T expose silk to sunlight, or it will fade!
DO iron a silk intimate while it is slightly damp or hangs the piece in the bathroom while you take a hot shower to steam out any wrinkles! DON'T allow silk to come into contact with perfume!
Caring for Bradoria Bras and Shapewear
At Bradoria, we are the experts in our own products! After purchasing your new lingerie from us, we encourage you to follow our procedure below for keeping your Bradoria piece able to give you that sexy hourglass shape you love as long as possible:
Wash your Bradoria pieces in warm water (77 F or 25 C) with moderate strength detergent. Always hand wash! Washing machines can damage the fabric fibers in our lingerie. You may soak the piece for about 5 minutes in warm water and detergent, then rinse the piece until all traces of soap are removed.
Dry our pieces by first using a towel to remove excess water. Do not twist or attempt to ring out the intimate! Simply hang the piece up and allow it to air dry in a cool, light place with a gentle breeze. Avoid hanging in direct sunlight and ironing.
Store our pieces in a safe place away from potential contact with hard objects. After washing and drying your lingerie, nicely fold them and store them away safely.
Change out your lingerie when it becomes stretched. We recommend always having 2 more pairs of lingerie to change out when your piece unavoidably succumbs to time and wear.
One Size Does Not Fit All!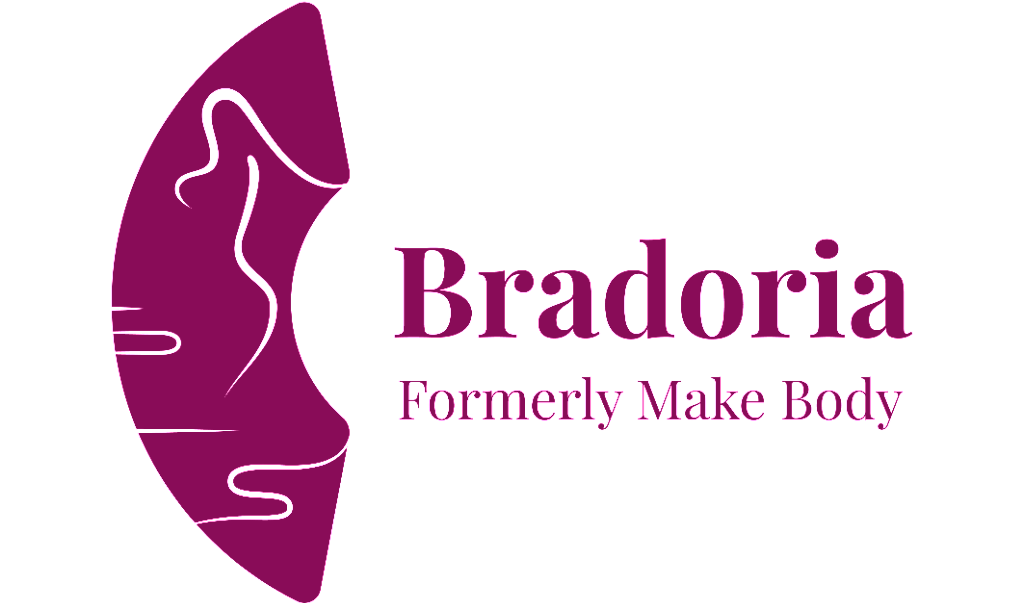 Impeccable Shape, Incredible you.
Bradoria designs lingerie shapewear with different body shapes in mind, to help women with all different, unique bodies, tastes, and ages achieve the perfect hourglass shape. By developing our S.M.A.R.T Fit™ fitting system that combines multiple body measurements and factors together, we help women find the perfect bras and shapewear for their individual figures. You deserve the grace and poise that a well tailored bra provides. Uplift your beauty and your confidence with style now using Bradoria's professional services and trusted lingerie products!